On their way back from Termes in late November 1210, Simon de Montfort and his Crusaders found the Château at Coustaussa already abandoned, and so carried on to Puivert. Apparently the garrison at Coustaussa, like the one at Le Bézu had lost heart after the fall of Termes.
Like many other strongholds Coustaussa returned to its traditional allegiance the following year. According to the Historia Albigensis [280], Simon de Montfort was at Narbonne with a crowd of newly arrived Crusaders when he heard the news. He immediately hurried off to Coustaussa and attacked it. The castle was surrendered after "a few days", after which Simon set off for Castelnaudry.
After the Crusades, the Castle came into the possession of the de Montesquieu family.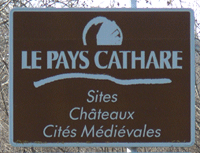 The present Château was apparently still in good shape until the nineteenth century, when an enterprising local realised that he could turn a few Francs by stripping out and selling the woodwork.